"Shit!" says Nathaniel Hall as people take their seats at Oxford's North Wall, having already seen the performer's legs and feet poking out from under a duvet. "Talk amongst yourselves," he suggests, hurriedly trying to tidy up last night's party. He calls out to technical manager Joel Clements, "Can we get some music on? Loosen this lot up a bit." Wham!'s 'Club Tropicana' plays and he finds a baggie left behind by a partygoer, which he dips into – "Be rude not to…"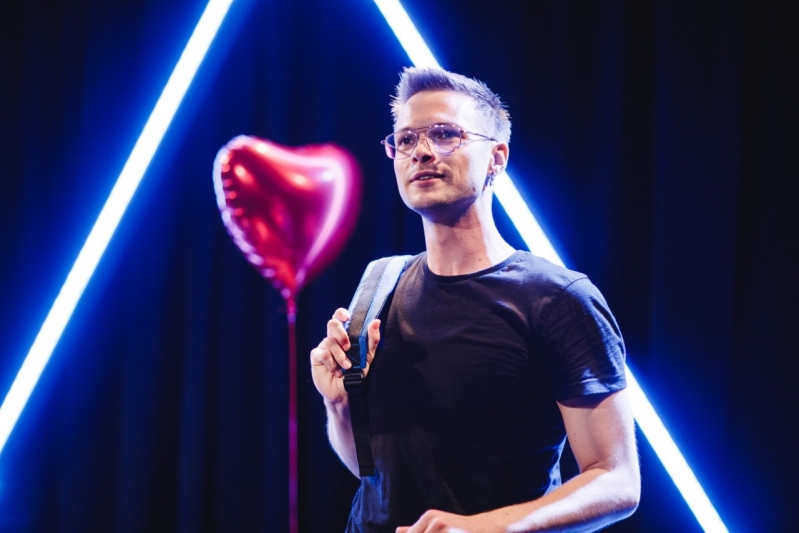 It's a comedic take on a dark period in Hall's life, when the theatre-maker was partying and taking drugs to mask pain. For he'd been keeping a secret for over a decade: Hall is HIV+. He was diagnosed about two weeks after his 17th birthday and caught the virus the first time he had sex.
We listen to the drug-fuelled figure talk old condoms and kangaroo vaginas for a bit, then there's a boom and he's captured by a spotlight, his voiceover sounds: "This is not me at my best, folks." What follows is the story of how he got HIV, its often frightening impact on his mental health, and his mission to educate people about it.
In the early stages we witness toy babies and silly string representing vomit and diarrhoea. Later, the actor captivatingly swallows pills topped with powder out of a cereal bowl, and the audience join him in a candlelit vigil remembering the 35 million people who have died from AIDS and standing in solidarity with the 38 million people who live with HIV. One of the production's most moving parts is possibly its simplest: a list of things that happened after Hall's diagnosis. In no particular order, it includes "I went to university and got a degree in theatre and performance", "my sister developed epilepsy" and, a number of times, "I tried to tell Mum and Dad."
First Time's original production featured a glitter curtain with pink triangle motif. Here it's replaced with a large neon-light triangle, though still symbolic of the pink triangle used by the Nazis to mark gay men. A hospital screen stands stage right which, as well as being a suitable backdrop for the GUM clinic waiting room, has other uses during the show. For example, it becomes a playing board for the quiz where Hall presents two scenarios and asks the audience to choose which one is more likely to result in catching HIV. It's an informative segment: we're told two-thirds of all new infections come from people who don't know their HIV status; we hear about PrEP – the drug that is 98% effective at stopping you contracting HIV; and Hall tells us because he is on effective treatment for HIV and his viral load is undetectable, the risk of transmission is reduced by 100%.
Phil Collins also crops up in this part – scenario: sex with Phil Collins using a condom – coincidentally, Steve Hackett Genesis Revisited was playing Oxford's New Theatre the same night.